Es ist wieder "Fuck Yeah!" Zeit :D
Wie im
letzten Jahr
, habe ich diesmal wieder beim "Fuck Yeah!"-Comickalender von
Schlogger
mitgemacht. Die 26 Zeichner vom letzten Jahr haben sich vervielfältigt und dieses Jahr machen ganze 58(!) tolle deutsche Comiczeichner und Illustratoren mit. Ich freue mich sehr, wieder Teil dieses wunderbaren Projektes zu sein. Ich habe übrigens die 8. Kalenderwoche mitten im Februar bekommen :)
It is "Fuck Yeah!" time again :D
Like last year did I participate in the "Fuck Yeah!-Comiccalendar organized by Schlogger. The 26 artists from last year became 58 amazing comic artists and illustartors. I'm really happy to be part of this great project. By the way, I got the 8th calendar week in the middel of Febuary :)
Nun will ich euch nicht lange auf die Folter spannen, hier ist meine fertige Illustration //
To make the long story short, here is my final illustration
: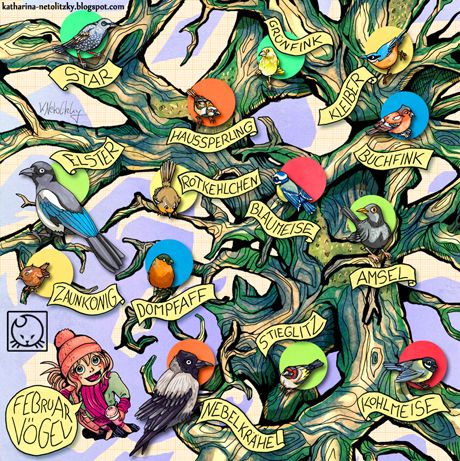 Am Tag nach der Deadline habe ich verstreut nochmal den alten Kalender durchgeblättert und leider gemerkt, dass im letzten Jahr
Sebastian Koch
bereits die selbe Idee hatte :( zwar hat er sie anders umgesetzt, aber ich habe mich trotzdem sehr über mich selbst geärgert. Da hätte ich besser aufpassen sollen. Konnte leider nichts mehr daran ändern, da die Deadline ja schon vorbei war.
I absent-minded flipped through the old calendar again the day after the deadline and sadly realized, that Sebastian Koch already had the same idea last year :( He visualized it in a different way, but I was quite angry with myself anyway. I should have paid more attention. I couldn't change it any more since the deadline was already over.
Falls es euch noch interessiert, habe ich ein kleines Making Of der Illustration zusammengestellt:
If you're interested, I put you a small Making Of of the illustration together:
Um auf eine Idee zu kommen, habe ich erstmal ein bisschen vor mich hingezeichnet. Dabei ist dieser Charakter entstanden. Der Spatz auf dem Brot hat mich dann auf die Idee gebracht, eine Illustration mit vielen Vögeln zu machen. Ich liebe Vögel ;) //
To get an idea, I just scribbled a bit and drew this character. The bird on the bread bought me the idea to do something wirh a lot of birds. I love birds ;)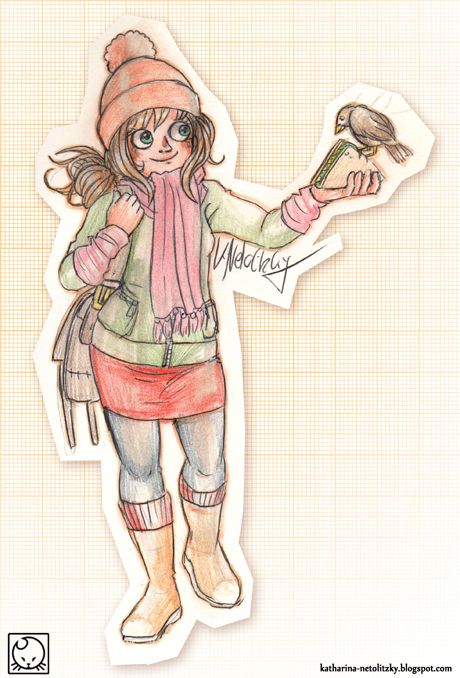 Doch wie all die Vögel auf das Format bringen? Ich entschied mich, es mit einer Vogelperspektive zu versuchen, was sich kompositorisch als ziemlich knifflig herausstellte. Erst einmal habe ich das Mädchen gezeichnet. //
But how to get all the birds in the format? I decided to try using bird's perspective, what turned out pretty tricky when it came to the composition. First I drew the girl.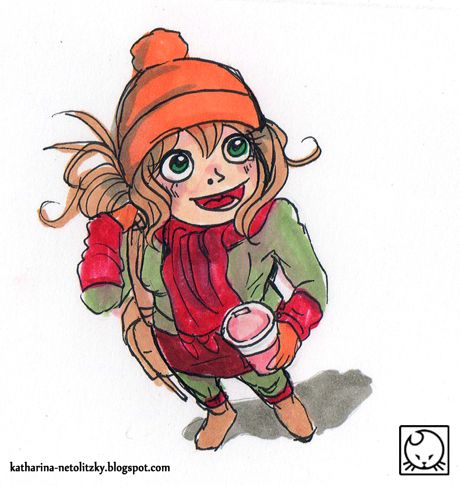 Dann habe ich versucht, das Ganze mal anzuscribbeln und eine schöne Komposition zu finden. Dieser Zwischenschritt sieht so schrecklich aus *lach* aber er war mir eine große Hilfe. //
Then I tried to make a layout for the whole thing to find a good composition. Thsi step looks so horrible *laughs* but it was actually a great help.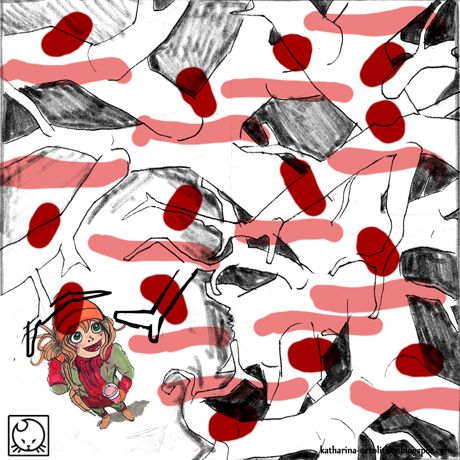 Hier ist dann das Lineart für Mädchen und Baum. Die Vögel habe ich extra gezeichnet, was sich später als gute Idee herausstellte. //
Here's the lineart for the girl and the tree. I drew the birds seperately what has been a good idea.
Die Vögel zu zeichnen und zu kolorieren hat am meisten Spaß gemacht. //
The most fun was it to draw and color the different birds.
Zu guter Letzt noch ein Close-Up des fertigen Bildes //
And finally a close up of the final picture.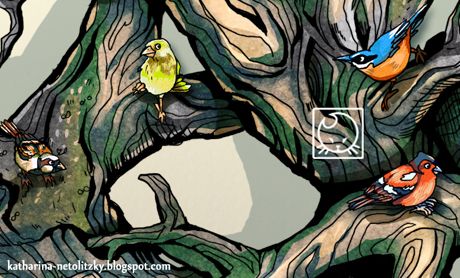 Nach dieser Bilderflut gibt es nun noch eine Linkparty ;D //
After this flood of pictures I give you a flood of links ;D
Vorbestellen kann man den "Fuck Yeah!"-Kalender entweder im //
You can preorder the "Fuck Yeah!"-calendars einther in the
Kwimbi-Onlineshop
oder bei den teilnehmenden Zeichnern selbst //
or on the pages of the participating artists themselfs
:
Annelie Wagner
❤
Adrian vom Baur
❤
Albert Hulm
❤
Angela Wittchen
❤
Anna-Maria Jung
❤
Asu
❤
Beni Merk
❤
Buddelfisch
❤
Chris Hefele
❤
Dagmar Gosejacob
❤
David Füleki
❤
Dominik Wendland
❤
Eva Yabai
❤
Eve Jay
❤
Frederic Dupont
❤
Hanspeter Ludwig
❤
Irina Zinner
❤
JARoo
❤
Jeff Chi
❤
Jo Bub
❤
Jo Lott
❤
Johannes Kretzschmar
❤
Kathi Kierach
❤
Katja Klengel
❤
Kerstin Buzelan
❤
Lew Bricode
❤
Lisa Neun
❤
Maike Plenzke
❤
Maja Verfondern
❤
Martin Ratscheck
❤
Marvin Clifford
❤
Matthias Kringe
❤
Maximilian Hillerzeder
❤
Moritz Stetter
❤
Olivia Vieweg
❤
Piers Goffart
❤
Ralf Marzcinzcik
❤
Sarah Burrini
❤
Sarah Stowasser
❤
Sascha Wüstefeld
❤
Selektive Erinnerung
❤
Schlogger
❤
Simone Kesterton
❤
Stefanie Kick
❤
Stew & Timo
❤
TeMeL
❤
Till Laßmann
❤
Tim Gaedke
❤
Tobi Dahmen
❤
Ulf Salzmann
❤
Vanessa Drossel
❤
Vincent Kunert
❤
Walterscheid
❤
Yinfinity
Ich selbst habe auch 3 Kalender zu verkaufen,
also wer einen von mir (natürlich mit Signatur und kleiner Zeichnung) für 15€ plus Porto haben möchte, einfach hier kommentieren oder (noch besser) mir eine E-Mail schreiben: katharina.netolitzky[at]gmx.de
I also have 3 calendars to sell,

so if you want one (of coure with signature and a small drawing) for 15€ plus shipping, then just comment here or (even better) write me an E-Mail to: katharina.netolitzky[at]gmx.de
bye bye
Kathi